Who We Are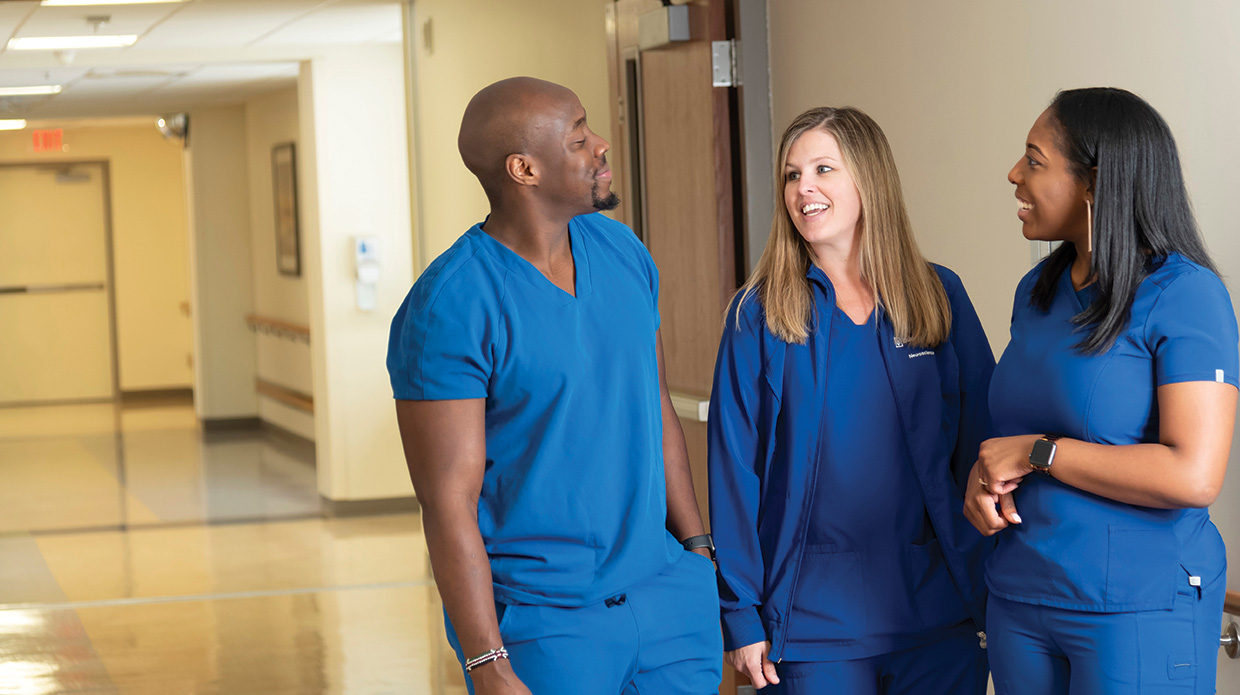 Benefits
Our team members are a critical component of our success. At Duke Raleigh Hospital, we are proud to offer comprehensive health and well-being benefit programs to help our team members and their families better manage the various phases of life.
Health Benefits
We take care of our team members and their dependents by providing comprehensive benefits packages that give you a choice.
Time Off
We believe it is essential for our team members to take advantage of time away to recharge.
Duke Raleigh Hospital's Paid Time Off program puts vacation, sick leave, and holidays into one program. This gives employees flexibility in scheduling time off.
We recognize that during a team members career circumstances may arise that require leaves of absence.
We offer paid parental leave to all team members.
Educational Benefits
The continued growth and development of our team members is encouraged.
Financial Benefits
Well-Being
The well-being of each team member is important and supported by Duke Raleigh Hospital.
Team members can access a free tobacco cessation support program, run/walk clubs, gym memberships, and other wellness programs through LIVE FOR LIFE.
Our Employee Assistance Program provides team members and their families access to free, confidential, in-the-moment support to help with personal or professional problems.
We offer a seasonal farmer's market on our main hospital campus on Fridays.
Culture
At Duke Raleigh Hospital, we are focused on being the best place to get and to give care. We are always looking for people who share our positive attitude and values. When you join our team, you will discover what it is like to be part of a hospital with a family atmosphere where we celebrate everyone and do amazing things together. Every day our team works together to achieve excellence in all that we do.
Career and Professional Growth
We challenge each other to grow and develop into the best versions of ourselves. And because we're part of the Duke University Health System, all our team members have access to expanded course offerings and the Duke Leadership Academy to help them grow professionally.
Caring for Each Other
At Duke Raleigh Hospital, we take time out for each other. Annually, we offer an All Staff event where team members take a break from their day to have fun with colleagues and reconnect with why they began a career in healthcare. We help team members recharge with our annual Valentine's Day chocolate fountain and holiday luncheon.
Our team members have the opportunity to join our Diversity Leadership Team and one of several affinity groups.
Giving Back to Our Community
Duke Raleigh Hospital is proud to be part of Wake County. Our team members regularly give back to the community we serve by volunteering time at local organizations and events.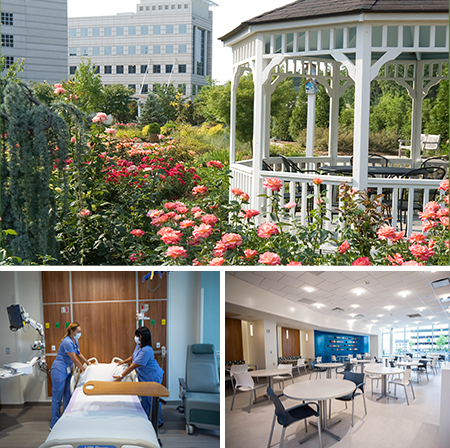 Campus
Duke Raleigh Hospital offers the latest in care and technology in a patient-friendly setting. It has been an important part of Duke Health since 1998 and has served Wake County for more than 40 years, employing more than 1,800 people. The hospital provides 186 inpatient beds and a comprehensive array of services.
We are located in Midtown Raleigh off Wake Forest Road near Interstate 440. The hospital is also nearby shops, restaurants, activities in North Hills and downtown Raleigh.
The main campus includes our hospital, gardens, and seven medical office buildings. Our campus is presently expanding to add our South Pavilion—a 214,000 square foot extension of our main hospital. Duke Raleigh Hospital and Duke Health are bringing our team to areas across the county, including Holly Springs, Wake Forest, Apex, and Cary.
Learn more about our:
"What I like about it here is the sense of family.
I love the friendliness and the teamwork."
Lucine, Clinical Educator for Respiratory
"I was born in Kenya and I was brought over by my parents and raised in Raleigh.
I fell in love with this area of Raleigh. It is home to me."
David, Clinical Nurse I
"I feel like I am a walking piece of proof of the succession plan that Duke puts in place for you.
They took me in and groomed me to be in a place that I never could have imagined.
Now I have 80 plus team members that I supervise."
Kaliedra, Clinical Team Lead Surgical Oncology
Sign Up for Job Alerts
Stay connected with us by signing up below to receive updates on future postings and career opportunities at Duke Raleigh Hospital.

;