STUDENT REGISTERED NURSE ANESTHETIST (SRNA) - DUKE RALEIGH HOSPITAL
Overview
At Duke Raleigh Hospital, we want to be the best place to give care and the best place to get care. We offer the unique opportunity of quality academic medicine in a friendly community setting. As a part of our nursing team, providing service will be your priority as you care for the whole person in a patient-centered atmosphere. You'll also have the opportunity to participate in the clinical ladder program, education and professional development activities, departmental committees and research projects and volunteer in the community. Our nursing team members are an integral part of our care team and ensure that we deliver the highest quality and safest care to our patients.
Job Type: Full-time, Part-time, PRN
Job Level: Entry, Mid, Senior
Setting: Inpatient and Ambulatory
Success Profile
What makes a successful nurse at Duke Raleigh Hospital?
Compassionate
Flexible
Multi-Tasker
Positive
Socially Conscious
Clinically Inclined
Career Path
We offer many career paths to support your immediate and future success.
Nurse Resident
(New Grad)

Nurse Resident job leads to Clinical Nurse II job

Clinical Nurse II

The Clinical Nurse II job leads to Clinical Nurse III, Nurse Educator, or Clinical Team Lead

Clinical Nurse III

The Clinical Nurse III job leads to the Clinical Nurse IV job

Nurse Educator

The Nurse Educator job is the top job in its path

Clinical Team Lead

The Clinical Team Lead job leads to the Nurse Manager job

Clinical Nurse IV

The Clinical Nurse IV job is the top job in its path

Nurse Manager

The Nurse Manager job is the top job in its path
Trending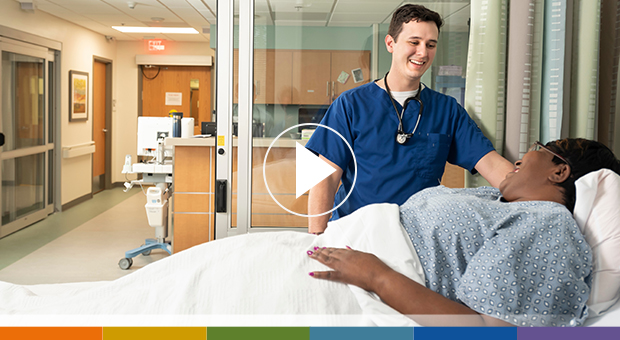 "I feel like I am a walking piece of proof of the succession plan that Duke puts in place for you.
They took me in and groomed me to be in a place that I never could have imagined.
Now I have 80 plus team members that I supervise."
Kaliedra, Clinical Team Lead Surgical Oncology
"The benefits are definitely one of the reasons I came to work at Duke Raleigh Hospital. They are great. I was lucky enough to participate in the student loan forgiveness program."
– Bryanna, RN in ICU
"It feels like a small-town hospital, but it's not. It is Duke and it's a great opportunity."
– Laura, Clinical Nurse II on Neuroscience Unit
Rewards
Health Benefits

Medical, dental, vision, disability, flex spending accounts, health and wellness programs

Retirement Plans

Duke offers a generous pension plan and 403(b) retirement contributions

Continuing Education

Tuition reimbursement and degree opportunities

Parental Leave

Paid leave for eligible employees in addition to our Paid Time Off program

Location

We're located in the heart of Raleigh, close to shopping, great restaurants and entertainment

Recognition

We're Magnet designated, a leader in Heath Care Equity and a CMS 5-star hospital
Job Description
Job ID 204927
Date posted Aug. 03, 2022
Duke Nursing Highlights:
Duke University Health System is designated as a Magnet® organization
Nurses from each hospital are consistently recognized each year as North Carolina's Great 100 Nurses
Duke University Health System was awarded the American Board of Nursing Specialties Award for Nursing Certification Advocacy for being strong advocates of specialty nursing certification
Duke University Health System has 6000 + registered nurses
Quality of Life: Living in the Triangle!
Relocation Assistance!
Duke Raleigh Hospital Duke Raleigh Hospital offers the latest in care and technology in a patient-friendly setting. It has been an important part of Duke Health since 1998 and has served Wake County for more than 35 years, employing more than 2,000 teammembers. The hospital provides 186 inpatient beds and a comprehensive array of services, including the Duke Raleigh Cancer Center, Duke Raleigh Orthopedic and Spine Center, cardiovascular services, neurosciences including the Duke Raleigh Skull Base and Cerebrovascular Center, advanced digestive care, disease management and prevention, wound healing, outpatient imaging, intensive and progressive care, pain clinic, same-day surgery, emergency department and community outreach and education programs. U.S.News & World Report ranked Duke Raleigh Hospital as high performing in orthopaedics and five adult procedures/conditions: chronic obstructive pulmonary disease (COPD), heart failure, kidney failure, lung cancer surgery, and stroke.
The DUHS SRNA program is intended to provide RN's the opportunity to attend (or are already attending) an accredited school of nurseanesthesia.
The recipient stipend amount of $36,000 equates to $1,000 for every full month of Service Committment as a Duke CRNA after graduation (upto 36 months). 
Minimum Qualifications
Education
BSN is required. Must be currently enrolled in a Master's or DNP degree program from a school of nurse anesthesia approved by the State Accrediting Agency and the Council on Accreditation of the American Association of Nurse Anesthetists (AANA).
Experience
At least 2 years of critical care experience to be accepted into the program.
Degrees, Licensures, Certifications
Must have current RN licensure.
Duke is an Affirmative Action/Equal Opportunity Employer committed to providing employment opportunity without regard to an individual's age, color, disability, gender, gender expression, gender identity, genetic information, national origin, race, religion, sex, sexual orientation, or veteran status.
Duke aspires to create a community built on collaboration, innovation, creativity, and belonging. Our collective success depends on the robust exchange of ideas—an exchange that is best when the rich diversity of our perspectives, backgrounds, and experiences flourishes. To achieve this exchange, it is essential that all members of the community feel secure and welcome, that the contributions of all individuals are respected, and that all voices are heard. All members of our community have a responsibility to uphold these values.
Essential Physical Job Functions: Certain jobs at Duke University and Duke University Health System may include essentialjob functions that require specific physical and/or mental abilities. Additional information and provision for requests for reasonable accommodation will be provided by each hiring department.
Sign Up for Job Alerts
Stay connected with us by signing up below to receive updates on future postings and career opportunities at Duke Raleigh Hospital.