ASSISTANT NURSE MANAGER - PCU - DUKE RALEIGH HOSPITAL - NIGHTS
Overview
At Duke Raleigh Hospital, we want to be the best place to give care and the best place to get care. We offer the unique opportunity of quality academic medicine in a friendly community setting. As a part of our nursing team, providing service will be your priority as you care for the whole person in a patient-centered atmosphere. You'll also have the opportunity to participate in the clinical ladder program, education and professional development activities, departmental committees and research projects and volunteer in the community. Our nursing team members are an integral part of our care team and ensure that we deliver the highest quality and safest care to our patients.
Job Type: Full-time, Part-time, PRN
Job Level: Entry, Mid, Senior
Setting: Inpatient and Ambulatory
Success Profile
What makes a successful nurse at Duke Raleigh Hospital?
Compassionate
Flexible
Multi-Tasker
Positive
Socially Conscious
Clinically Inclined
Career Path
We offer many career paths to support your immediate and future success.
Nurse Resident
(New Grad)

Nurse Resident job leads to Clinical Nurse II job

Clinical Nurse II

The Clinical Nurse II job leads to Clinical Nurse III, Nurse Educator, or Clinical Team Lead

Clinical Nurse III

The Clinical Nurse III job leads to the Clinical Nurse IV job

Nurse Educator

The Nurse Educator job is the top job in its path

Clinical Team Lead

The Clinical Team Lead job leads to the Nurse Manager job

Clinical Nurse IV

The Clinical Nurse IV job is the top job in its path

Nurse Manager

The Nurse Manager job is the top job in its path
Trending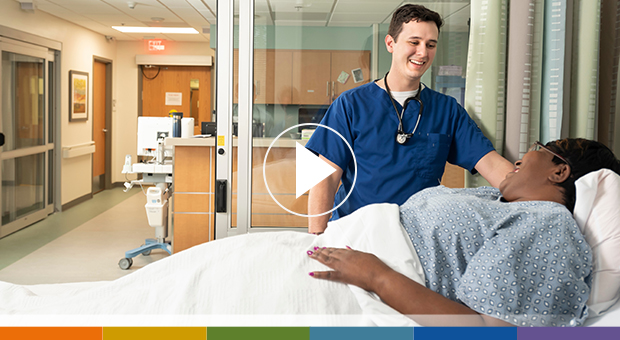 "I feel like I am a walking piece of proof of the succession plan that Duke puts in place for you.
They took me in and groomed me to be in a place that I never could have imagined.
Now I have 80 plus team members that I supervise."
Kaliedra, Clinical Team Lead Surgical Oncology
"The benefits are definitely one of the reasons I came to work at Duke Raleigh Hospital. They are great. I was lucky enough to participate in the student loan forgiveness program."
– Bryanna, RN in ICU
"It feels like a small-town hospital, but it's not. It is Duke and it's a great opportunity."
– Laura, Clinical Nurse II on Neuroscience Unit
Rewards
Health Benefits

Medical, dental, vision, disability, flex spending accounts, health and wellness programs

Retirement Plans

Duke offers a generous pension plan and 403(b) retirement contributions

Continuing Education

Tuition reimbursement and degree opportunities

Parental Leave

Paid leave for eligible employees in addition to our Paid Time Off program

Location

We're located in the heart of Raleigh, close to shopping, great restaurants and entertainment

Recognition

We're Magnet designated, a leader in Heath Care Equity and a CMS 5-star hospital
Job Description
Job ID 99975
Date posted Jul. 30, 2021
Duke Nursing Highlights:
Duke University Health System is designated as a Magnet® organization
Nurses from each hospital are consistently recognized each year as North Carolina's Great 100 Nurses
Duke University Health System was awarded the American Board of Nursing Specialties Award for Nursing Certification Advocacy for being strong advocates of specialty nursing certification
Duke University Health System has 6000 + registered nurses
Quality of Life: Living in the Triangle!
Relocation Assistance!
Duke Raleigh Hospital offers the latest in care and technology in a patient-friendly setting. It has been an important part of Duke Health since 1998 and has served Wake County for more than 35 years, employing more than 2,000 team members. The hospital provides 186 inpatient beds and a comprehensive array of services, including the Duke Raleigh Cancer Center, Duke Raleigh Orthopedic and Spine Center, cardiovascular services, neurosciences including the Duke Raleigh Skull Base and Cerebrovascular Center, advanced digestive care, disease management and prevention, wound healing, outpatient imaging, intensive and progressive care, pain clinic, same-day surgery, emergency department and community outreach and education programs
U.S. News & World Report ranked Duke Raleigh Hospital as high performing in orthopaedics and five adult procedures/conditions: Chronic Obstructive Pulmonary Disease (COPD), heart failure, kidney failure, lung cancer surgery, and stroke. #DukeRaleighJobs
Duke Nursing Highlights:
Duke University Health System is designated as a Magnet organization
Nurses from each hospital are consistently recognized each year as North Carolina's Great 100 Nurses.
Duke University Health System was awarded the American Board of Nursing Specialties Award for Nursing Certification Advocacy for being strong advocates of specialty nursing certification.
Duke University Health System has 6000 + registered nurses
Quality of Life: Living in the Triangle!
Relocation Assistance!
Assistant Nurse Manager – Progressive Care Unit - Duke Raleigh Hospital
The Progressive Care Unit is a step down unit for ICU. The patient population on this unit includes patients with altered mental status, DKA, respiratory failure, post cardiac catheterization, and some post-surgery patients. This is a fast paced unit where nurses have the opportunity to learn advanced skills, such as management of drips including Cardizem, Heparin, and Insulin.

Schedule:
*FLEXIBLE SCHEDULING*
5- 8 hour shifts/week - NIGHTS + Weekends
Weekend and holidays as required by unit
Occ Summary:
The Assistant Nurse Manager, RN (ANM) is a role developed to work in coordination with the nursing leadership in an assigned unit, department or service to ensure the work is accomplished safely and effectively. The ANM serves as leadership support for staff, physicians and other related providers on service- specific clinical issues. The ANM requires demonstration of leadership, clinical, and interpersonal skills. The ANM collaborates with the manager on clinical and non-clinical operations related to the designated service area. The ANM serves as the leader support for the unit/department/service when the manager is unavailable. The ANM is responsible for supervising, directing, coaching and mentoring staff under the supervision of the nurse manager of operations (NMO).
Work Performed:
Duties and responsibilities include those required of the clinical nurse, preceptor, and charge nurse role. In conjunction with nurse manager, the assistant nurse manager will plan, coordinate clinical requirements for staff and ensure all CBO and CBE requirements for staff are current.
Plan and assist with coordination of unit staff schedules and submit for manager approval.
Coordinate clinical training requirements with staff regarding equipment and supplies.
Consult with preceptors and orientees on a regular basis to provide support and determine how orientation should proceed on an individual basis.
Assist NMO in preparation, oversight, maintenance and monitoring of budget utilization
Collaborate with the manager for issue resolutions and projects to improve work flow processes throughout the department utilizing a proactive approach.
Collaborate with different departments (pharmacy, radiology, lab, registration) to resolve issues and improve work flow processes throughout the department.
Participate with the nurse manager in the interview process and selection of new staff.
Oversee various personnel actions including, but not limited to, hiring, performance appraisals, disciplinary actions, terminations and other related activities.
Mentor/coach staff to enhance their professional development.
Assess the performance of assigned new hires and orientees including entry level nurses, nursing care assistants and health unit coordinators; provides ongoing feedback and coaching.
Understand and communicate potential clinical equipment or supply issues to appropriate support team members (Materials, Biomed, Sterile Processing, etc).
Mentor and monitor the preceptors for all new employees.
Facilitate provision of clinical/education updates and skill check-offs to entire staff on a regular basis.
Provide immediate support or education on policy, procedures, equipment and supplies as needed.
Responsible for learning, implementing and teaching new technology/procedures.
Provide clinical consultation and guidance as needed to facilitate patient care.
Round on patient and families to validate services are provided consistently within expected standards; provide service recovery as needed.
Model and support the value of diversity in the workplace
Give assistance and/or direction to staff to facilitate quality patient flow.
Supervise and coordinate delivery of patient care for assigned patient care area.
Provide oversight and support to charge nurse to ensure staffing needs/assignments are made according to workload, staff competency and scope of practice. Delegate responsibilities within the scope of practice and validated competencies in order to meet the workload demands of the shift.
Facilitate participation of unit based staff on department and organization wide councils/committees.
Facilitate assignments that support learning for the orientee or nurse learner.
Promote an atmosphere of open communication that facilitates staff input into decision-making, resolution of conflict, and collegiality among all health team members.
Communicate in an effective, professional manner.
Support activities needed to ensure adherence to regulatory standards and compliance with clinical patient care standards and established policies and procedures.
Review and provide appropriate follow up/communication on SRSs related to their team or patients in conjunction with NMO.
Facilitate and encourage staff participation in departmental and hospital committee and council meetings.
Attend departmental and hospital committee meetings as assigned.
Coordinate, facilitate, participate or direct departmental projects with follow-through and appropriate follow-up.
Other projects and duties as directed by the department manager.
Knowledge, Skills and Abilities:
Knowledge of scope of the registered nurse, licensed practical nurse and nursing care assistant
Knowledge of and appropriate application of the nursing process
Knowledge of professional theory, practice and procedure
Ability to assess nursing needs of acute and chronically ill patients and their families
Able to independently seek out resources and work collaboratively
Ability to establish and maintain effective working relationships
Able to communicate clearly with patients, families, visitors, healthcare team, physicians, administrators, leadership and others
Able to teach patients and families in accordance with the nursing plan of care
Able to use sensory and cognitive functions to process and prioritize information, treatment, and follow-up
Able to use fine motor skills
Competent in BLS and/or other specialized life support requirements designated by work area
Able to record activities, document assessments, plan of care, interventions, evaluation and re-evaluation of patient status
Able to use computer and learn new software programs
Able to navigate the entity to provide clinical care for patients
Able to withstand prolonged standing and walking
Able to remain focused and organized
Working knowledge of procedures and techniques involved in administering routine and special treatments to patients
Pre-employment Physical Capacity Testing Required
Education:
Bachelor of Science degree in Nursing required.
Experience:
Three years of experience in nursing practice. Selected candidates must meet the Clinical Ladder requirements for CN III within one year of appointment.
Degrees, Licensures, Certifications:
Must have current or compact RN license in the State of North Carolina. BCLS certification is required.
Must obtain a nursing leadership certification within two years of hire of appointment.
Duke is an Affirmative Action/Equal Opportunity Employer committed to providing employment opportunity without regard to an individual's age, color, disability, gender, gender expression, gender identity, genetic information, national origin, race, religion, sex, sexual orientation, or veteran status.
Duke aspires to create a community built on collaboration, innovation, creativity, and belonging. Our collective success depends on the robust exchange of ideas—an exchange that is best when the rich diversity of our perspectives, backgrounds, and experiences flourishes. To achieve this exchange, it is essential that all members of the community feel secure and welcome, that the contributions of all individuals are respected, and that all voices are heard. All members of our community have a responsibility to uphold these values.
Essential Physical Job Functions: Certain jobs at Duke University and Duke University Health System may include essentialjob functions that require specific physical and/or mental abilities. Additional information and provision for requests for reasonable accommodation will be provided by each hiring department.
Sign Up for Job Alerts
Stay connected with us by signing up below to receive updates on future postings and career opportunities at Duke Raleigh Hospital.