NURSING CARE ASSISTANT I/HEALTH UNIT COORDINATOR-DUKE RALEIGH ORTHOPEDICS/MED SURG./NEURO (DAYS)
Overview
At Duke Raleigh Hospital, we want to be the best place to give care and the best place to get care. We offer the unique opportunity of quality academic medicine in a friendly community setting. As a part of our nursing team, providing service will be your priority as you care for the whole person in a patient-centered atmosphere. You'll also have the opportunity to participate in the clinical ladder program, education and professional development activities, departmental committees and research projects and volunteer in the community. Our nursing team members are an integral part of our care team and ensure that we deliver the highest quality and safest care to our patients.
Job Type: Full-time, Part-time, PRN
Job Level: Entry, Mid, Senior
Setting: Inpatient and Ambulatory
Success Profile
What makes a successful nurse at Duke Raleigh Hospital?
Compassionate
Flexible
Multi-Tasker
Positive
Socially Conscious
Clinically Inclined
Career Path
We offer many career paths to support your immediate and future success.
Nurse Resident
(New Grad)

Nurse Resident job leads to Clinical Nurse II job

Clinical Nurse II

The Clinical Nurse II job leads to Clinical Nurse III, Nurse Educator, or Clinical Team Lead

Clinical Nurse III

The Clinical Nurse III job leads to the Clinical Nurse IV job

Nurse Educator

The Nurse Educator job is the top job in its path

Clinical Team Lead

The Clinical Team Lead job leads to the Nurse Manager job

Clinical Nurse IV

The Clinical Nurse IV job is the top job in its path

Nurse Manager

The Nurse Manager job is the top job in its path
Trending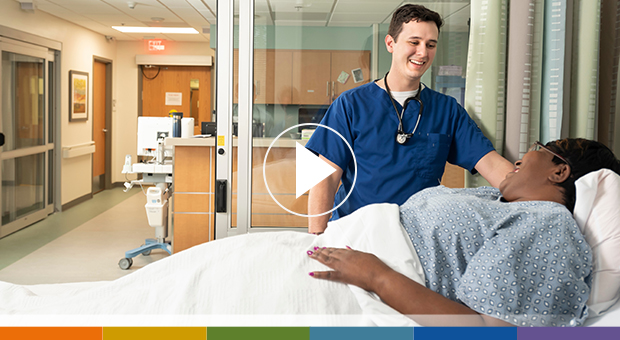 "I feel like I am a walking piece of proof of the succession plan that Duke puts in place for you.
They took me in and groomed me to be in a place that I never could have imagined.
Now I have 80 plus team members that I supervise."
Kaliedra, Clinical Team Lead Surgical Oncology
"The benefits are definitely one of the reasons I came to work at Duke Raleigh Hospital. They are great. I was lucky enough to participate in the student loan forgiveness program."
– Bryanna, RN in ICU
"It feels like a small-town hospital, but it's not. It is Duke and it's a great opportunity."
– Laura, Clinical Nurse II on Neuroscience Unit
Rewards
Health Benefits

Medical, dental, vision, disability, flex spending accounts, health and wellness programs

Retirement Plans

Duke offers a generous pension plan and 403(b) retirement contributions

Continuing Education

Tuition reimbursement and degree opportunities

Parental Leave

Paid leave for eligible employees in addition to our Paid Time Off program

Location

We're located in the heart of Raleigh, close to shopping, great restaurants and entertainment

Recognition

We're Magnet designated, a leader in Heath Care Equity and a CMS 5-star hospital
Job Description
Job ID 146218
Date posted Sep. 08, 2021
Duke Nursing Highlights:
Duke University Health System is designated as a Magnet® organization
Nurses from each hospital are consistently recognized each year as North Carolina's Great 100 Nurses
Duke University Health System was awarded the American Board of Nursing Specialties Award for Nursing Certification Advocacy for being strong advocates of specialty nursing certification
Duke University Health System has 6000 + registered nurses
Quality of Life: Living in the Triangle!
Relocation Assistance!
Duke Raleigh Hospital offers the latest in care and technology in a patient-friendly setting. It has been an important part of Duke Health since 1998 and has served Wake County for more than 35 years, employing more than 2,000 team members. The hospital provides 186 inpatient beds and a comprehensive array of services, including the Duke Raleigh Cancer Center, Duke Raleigh Orthopedic and Spine Center, cardiovascular services, neurosciences including the Duke Raleigh Skull Base and Cerebrovascular Center, advanced digestive care, disease management and prevention, wound healing, outpatient imaging, intensive and progressive care, pain clinic, same-day surgery, emergency department and community outreach and education programs
U.S. News & World Report ranked Duke Raleigh Hospital as high performing in orthopaedics and two adult procedures/conditions: Chronic Obstructive Pulmonary Disease (COPD) and lung cancer surgery. #DukeRaleighJobs
Duke Nursing Highlights:
Duke University Health System is designated as a Magnet® organization
Nurses from each hospital are consistently recognized each year as North Carolina's Great 100 Nurses.
Duke University Health System was awarded the American Board of Nursing Specialties Award for Nursing Certification Advocacy for being strong advocates of specialty nursing certification.
Duke University Health System has 6000 + registered nurses
Quality of Life: Living in the Triangle!
Relocation Assistance!
Occ Summary
Perform a variety of nonprofessional nursing duti es in the direct careof patients under the direct supervision of an RN/L PN. Perform a varietyof clerical duties involved in preparing, maintaini ng, and processingpatient, unit (s) and hospital data and records to inc lude operating theorganization's patient care information systems.
Work Performed
Administer treatment and personal care proc edures to patients including,but not limited to, feeding, bathing, shavi ng changing clothing,cleaning and trimming fingernails, bed-making, assi sting withambulation, enemas, skin care, and bowel and bladder eliminati on;provide such additional care as required to meet the personal needs a ndcomfort of assigned patients.Perform a variety of selected patient car e tasks under the direction ofan RN/LPN to assist medical and nursing pe rsonnel in the examination,treatment and care of patients.Retrieve and r ecord patient data in electronic medical records (EMR) andreport to Nurs e noting any new abnormal changes in the patient'scondition.Participate in the transport of patients.Clean assigned area; stock and replenish su pplies and equipment asrequired.Perform a variety of clerical tasks invo lved in operating theorganization's patient care information system. Ac knowledge orders onEMR task list , verify printout and input verified or ders to requestdiets, treatments, nursing services, equipment and diagno stic andlaboratory tests and procedures.Assemble and maintain patientch arts from admission through dischargePrepare and upload paper documents into the electronic medical record(EMR).Exhibit professional communicati on skill when answering the telephoneand interacting with patients, visi tors and other staff members.Navigate electronic medical record, access patient information, generatereports, schedule appointments and manage t ask list.Use available technology to request and coordinate patient tran sport.Assign nursing staff to communication systems. Perform other rela tedduties incidental to the work described herein.
Knowledge , Skills and Abilities
Working knowledge of sterile techniques an d special procedures that areapplicable to work performedWorking knowled ge of procedures and techniques involved in administeringroutine and spe cial treatments to patientsWorking knowledge of sanitation, personal hyg iene and basic health andsafety precautions applicable to work in a hosp italWorking knowledge of infection control procedures and safety precaut ionsAbility to withstand prolonged standing and walkingHeavy lifting and the ability to transport stretcher and wheelchairpatients to various ho spital locations may be required.Ability to understand and follow oral a nd written instructions.Ability to document and communicate pertinent in formation using computerand/or paper documentation toolsKnowledge and un derstanding oftelephone etiquetteWorking knowledge of general clerical practices and proceduresWorking knowledge of spelling and medical termin ology.Ability to apply specific departmental rules and regulations relat ing toverifying, processing and maintaining records and formsAbility to organize and set prioritiesAbility to operate a computer terminal and ot her office equipmentAbility to dealtactfully and courteously with the p ublicAbility to establish and maintain effective relationships with othe rpersonnelWorking knowledge of principles and practices of providing non -professional bedside patient careBasic knowledge and the ability to use technology to include computers,scanners, communication system and othe r systems.
Level Characteristics
N/A
Minimum Qualifications
Education
Completion of a Level I - Nurse Aide educationprogram approved by the North Carolina Board of Nursing or successful completion of the NC - approved Nurse Aide I competency test. High school diploma or equivalent required.
Experience
N/A
Degrees, Licensures,Certifications
Currently listed as a Nursing Assistant (NAI) with the Division of Facility Services with no substantiated findings or pending of abuse, fraud, neglect or misappropriation of property. AHA Basic Healthcare provider certification must be maintained/ completed by the end of new hire orientation, which typically takes place during the first week of employment.
Duke is an Affirmative Action/Equal Opportunity Employer committed to providing employment opportunity without regard to an individual's age, color, disability, gender, gender expression, gender identity, genetic information, national origin, race, religion, sex, sexual orientation, or veteran status.
Duke aspires to create a community built on collaboration, innovation, creativity, and belonging. Our collective success depends on the robust exchange of ideas—an exchange that is best when the rich diversity of our perspectives, backgrounds, and experiences flourishes. To achieve this exchange, it is essential that all members of the community feel secure and welcome, that the contributions of all individuals are respected, and that all voices are heard. All members of our community have a responsibility to uphold these values.
Essential Physical Job Functions: Certain jobs at Duke University and Duke University Health System may include essentialjob functions that require specific physical and/or mental abilities. Additional information and provision for requests for reasonable accommodation will be provided by each hiring department.
Sign Up for Job Alerts
Stay connected with us by signing up below to receive updates on future postings and career opportunities at Duke Raleigh Hospital.