REGISTERED NURSE - CANCER CENTER SURGICAL ONCOLOGY RALEIGH, NC
Overview
At Duke Raleigh Hospital, we want to be the best place to give care and the best place to get care. We offer the unique opportunity of quality academic medicine in a friendly community setting. As a part of our nursing team, providing service will be your priority as you care for the whole person in a patient-centered atmosphere. You'll also have the opportunity to participate in the clinical ladder program, education and professional development activities, departmental committees and research projects and volunteer in the community. Our nursing team members are an integral part of our care team and ensure that we deliver the highest quality and safest care to our patients.
Job Type: Full-time, Part-time, PRN
Job Level: Entry, Mid, Senior
Setting: Inpatient and Ambulatory
Success Profile
What makes a successful nurse at Duke Raleigh Hospital?
Compassionate
Flexible
Multi-Tasker
Positive
Socially Conscious
Clinically Inclined
Career Path
We offer many career paths to support your immediate and future success.
Nurse Resident
(New Grad)

Nurse Resident job leads to Clinical Nurse II job

Clinical Nurse II

The Clinical Nurse II job leads to Clinical Nurse III, Nurse Educator, or Clinical Team Lead

Clinical Nurse III

The Clinical Nurse III job leads to the Clinical Nurse IV job

Nurse Educator

The Nurse Educator job is the top job in its path

Clinical Team Lead

The Clinical Team Lead job leads to the Nurse Manager job

Clinical Nurse IV

The Clinical Nurse IV job is the top job in its path

Nurse Manager

The Nurse Manager job is the top job in its path
Trending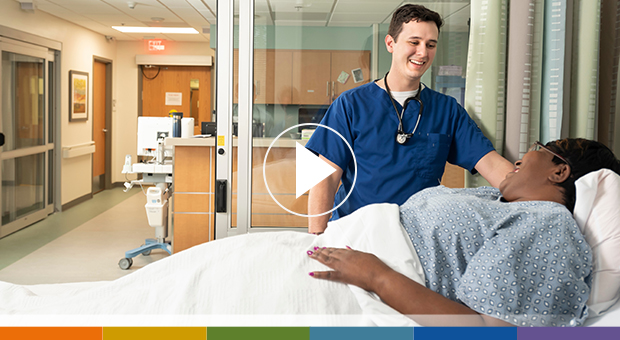 "I feel like I am a walking piece of proof of the succession plan that Duke puts in place for you.
They took me in and groomed me to be in a place that I never could have imagined.
Now I have 80 plus team members that I supervise."
Kaliedra, Clinical Team Lead Surgical Oncology
"The benefits are definitely one of the reasons I came to work at Duke Raleigh Hospital. They are great. I was lucky enough to participate in the student loan forgiveness program."
– Bryanna, RN in ICU
"It feels like a small-town hospital, but it's not. It is Duke and it's a great opportunity."
– Laura, Clinical Nurse II on Neuroscience Unit
Rewards
Health Benefits

Medical, dental, vision, disability, flex spending accounts, health and wellness programs

Retirement Plans

Duke offers a generous pension plan and 403(b) retirement contributions

Continuing Education

Tuition reimbursement and degree opportunities

Parental Leave

Paid leave for eligible employees in addition to our Paid Time Off program

Location

We're located in the heart of Raleigh, close to shopping, great restaurants and entertainment

Recognition

We're Magnet designated, a leader in Heath Care Equity and a CMS 5-star hospital
Job Description
Job ID 161061
Date posted Oct. 13, 2021
Duke Nursing Highlights:
Duke University Health System is designated as a Magnet® organization
Nurses from each hospital are consistently recognized each year as North Carolina's Great 100 Nurses
Duke University Health System was awarded the American Board of Nursing Specialties Award for Nursing Certification Advocacy for being strong advocates of specialty nursing certification
Duke University Health System has 6000 + registered nurses
Quality of Life: Living in the Triangle!
Relocation Assistance!
Duke Raleigh Hospital offers the latest in care and technology in a patient-friendly setting. It has been an important part of Duke Health since 1998 and has served Wake County for more than 35 years, employing more than 2,000 team members. The hospital provides 186 inpatient beds and a comprehensive array of services, including the Duke Raleigh Cancer Center, Duke Raleigh Orthopedic and Spine Center, cardiovascular services, neurosciences including the Duke Raleigh Skull Base and Cerebrovascular Center, advanced digestive care, disease management and prevention, wound healing, outpatient imaging, intensive and progressive care, pain clinic, same-day surgery, emergency department and community outreach and education programs
U.S. News & World Report ranked Duke Raleigh Hospital as high performing in orthopaedics and two adult procedures/conditions: Chronic Obstructive Pulmonary Disease (COPD) and lung cancer surgery. #DukeRaleighJobs
Duke Nursing Highlights:
Duke University Health System is designated as a Magnet® organization
Nurses from each hospital are consistently recognized each year as North Carolina's Great 100 Nurses.
Duke University Health System was awarded the American Board of Nursing Specialties Award for Nursing Certification Advocacy for being strong advocates of specialty nursing certification.
Duke University Health System has 6000 + registered nurses
Quality of Life: Living in the Triangle!
Relocation Assistance!
Occ Summary
Plan and provide professional nursingcare for paCharacteristics
N/A
by work areaAbility to record activities, do cument assessments, plan ofnowledge of infection control procedures and safety precautionsWorking knowledge and completion of appropriate JCAHO and otherregulatory requirementsPre-employment Physical Capacity Testing Required
Levellved in administeringroutine and special treatmen ts to patientsWorking kfocused and organizedWorking knowledge of procedu res and techniques invotients in accordancewith physician orders and est ablished policies and procedures.
Work Performed
Plan and provide professional nursing care for patients in accordancewith ph ysician orders and established policiesand procedures to includecollect ing and analyzing patient data, developing and implementingnursing care plans, establishing interpersonal relationships withpatients, evaluating nursing care given andcommunicating to properpersonnel relevant facts a boutpatients, actiontaken and patientresponses.Assist other nursing per sonnel in the delivery of nursing care and actas team leader or charge n urse for a group of patients or an entire unitas assigned.Provide direct ion and guidance in the proper use, careand control ofmaterial resource s; appraise quality and effectiveness of material andequipment and repor t results to head nurse; maintain standards ofcleanliness in assigned ar eas. Observe activities of nursing staff andmake recommendations to nurs ingmanagement for improvement inthequality and effectiveness of nursing care given.Assist in the development and implementation of general poli cies andprocedures designed to effect efficiency of operations.Perform o ther related dutiesincidental to the work described herein.
Knowledge, Skills and Abilities
Knowledge of scope of the registe red nurse, licensedpractical nurse andNCAKnowledge of and appropriate ap plication of the nursing processKnowledge of professional theory, practi ce and procedureAbility to assess nursing needs of acute and chronically ill patientsand their familiesAbility to independently seek out resourc es and work collaborativelyAbility to establish and maintain effective w orking relationshipsAbility to communicate clearly with patients, famili es, visitors,healthcare team, physicians, administrators, leadership and othersAbility toteach patients and families in accordance with the nurs ingplan of careAbility to use sensory and cognitive functions to process and prioritizeinformation, treatment, and follow-upAbility to use fine motor skillsCompetent in BLS and/or other specialized life support requi rementsdesignatedcare,interventions, evaluation and re-evaluation of pat ient statusAbility to use computer and learn new software programsAble t o document and communicate pertinent information using computerand/or pa per documentation toolsAbility to navigate the entity to provide clinica l care for patientsAbility to withstand prolonged standing and walkingAb ilityto remain
Minimum Qualifications
Education
Work requires graduation from an accredited BSN program. Exception: Registered nurses hired between July 1, 2014 and March 31, 2021 without a Bachelor's degree in Nursing (or higher) are expected to enroll in an appropriate BSN program within two years of their start date but must complete the program within five years of their start date. Registered nurses hired before July 1, 2014 are not required to enroll in a BSN program to remain in this job classification.
Experience
Requires two years of appropriate clinical experience. In addition to the education and experience noted above, applicants must meet all requirements set forth by the Nursing Clinical Ladder Program for the level III.
Degrees, Licensures, Certifications
Must have current or compact RN licensure in the state of North Carolina. BLS required.
Duke is an Affirmative Action/Equal Opportunity Employer committed to providing employment opportunity without regard to an individual's age, color, disability, gender, gender expression, gender identity, genetic information, national origin, race, religion, sex, sexual orientation, or veteran status.
Duke aspires to create a community built on collaboration, innovation, creativity, and belonging. Our collective success depends on the robust exchange of ideas—an exchange that is best when the rich diversity of our perspectives, backgrounds, and experiences flourishes. To achieve this exchange, it is essential that all members of the community feel secure and welcome, that the contributions of all individuals are respected, and that all voices are heard. All members of our community have a responsibility to uphold these values.
Essential Physical Job Functions: Certain jobs at Duke University and Duke University Health System may include essentialjob functions that require specific physical and/or mental abilities. Additional information and provision for requests for reasonable accommodation will be provided by each hiring department.
Sign Up for Job Alerts
Stay connected with us by signing up below to receive updates on future postings and career opportunities at Duke Raleigh Hospital.